Image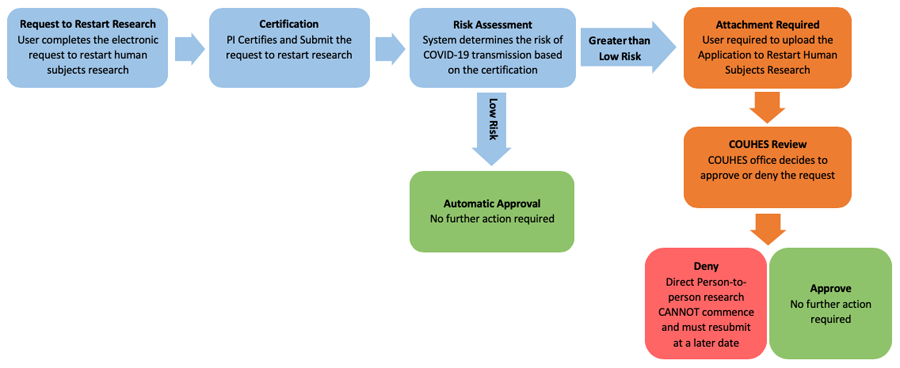 Investigators must initiate a Restart Request through COUHES Connect in the Restart Research Request tab. Restart Requests are required for EACH protocol investigators intend to restart direct person-to-person human subject research. Investigators complete the following: 
All investigators must complete the Restart Request within COUHES Connect.
Based on your answers and potential risk, the system provides an automatic approval or requires you to attach an Application to Restart Human Subjects Research
Restart Requests that require the Application to Restart Human Subjects Research are reviewed by COUHES on a rolling basis and are approved or denied based on the following criteria:


Risk to subjects
Risk to Research Personnel
Risk to MIT/Local Community

Investigators are required to monitor the changes in COUHES policy.
Restart Request MUST be submitted by the Principal Investigator on the protocol.
For exempt research, the Faculty Sponsor and the Principal Investigator are responsible for reviewing the Restart Request and monitor changes posted on the COUHES COVID-19 Update page.
Denied applications CANNOT commence with direct person-to-person research. Investigators are encouraged to update protocol in response to remote activities and resubmit a Restart Request later, as the situation evolves.
COUHES Connect Guidance
| Name | Description |
| --- | --- |
| | Detailed description of the COUHES Connect submission process, requirements and common troubleshooting. |
| COUHES Connect Restart Training Video (length: 7:56m) | Video demo of the COUHES Connect submission process and a detailed walkthrough of the process. |